SHows
BVM will be closing this event of many local bands doing a few Beatles songs, each. For WMNF community station.
Black Valley Moon is playing the Pop Up Punk Rock Flea in St Pete with a bunch of other cool bands. We'll be playing some tunes from our new ep for the first time!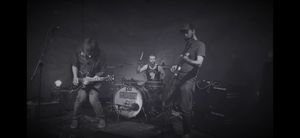 BIO
Started in 2019 by Down By Law guitarist Sam Williams, Black Valley Moon is a guitar-centric, garage rock band. A unique musical blend of surf, rockabilly, horror punk, indie pop and goth, the band released 'The Baleful Sounds Of Black Valley Moon' LP and 'Spectral Melodies' EP as an instrumental trio before joining forces with vocalist Ray Vega. With Ray up front, they released the 3 song 'Vampirella' ep. Their first vocal-fronted full-length, 'Songs From The Black Valley', was released in the Winter of 2022. With an aesthetic and lyrical focus on drive-in horror movies and comic books, Black Valley Moon are on a quest to bring their brand of retro-inspired tunes to the world live. One show at a time.